What is Odoo Open Source ERP
Odoo connects and integrates all business processes on a single, modular solution. Without requiring complex integrations and interfaces.
All Odoo apps can be used independently and scaled. This allows you to seamlessly build your custom and fully equipped ERP system.
Odoo can be seamlessly integrated with other ERP and CRM systems, e-commerce platforms, payment gateways, shipping services, etc.
Odoo has 10 million users and releases a new version every year. The ERP business software is the most installed open-source solution worldwide.
The Business Software Odoo prioritizes user experience. It offers a flexible, modern, and intuitive user interface that's both easy to learn and use.
With a starting price of €19.90 or €29.90 per user per month for all core modules, Odoo offers a unique value proposition.
Odoo is an open-source software with freely accessible source code and a highly active developer community. You can leverage the benefits of this ecosystem.
Odoo is accessible via a web browser on any device (desktops, tablets, smartphones, etc.) with an internet connection, eliminating the need for software installation.
66 Apps and 30 core applications for seamlessly integrating, automating, and optimizing all of your business processes in a single software solution.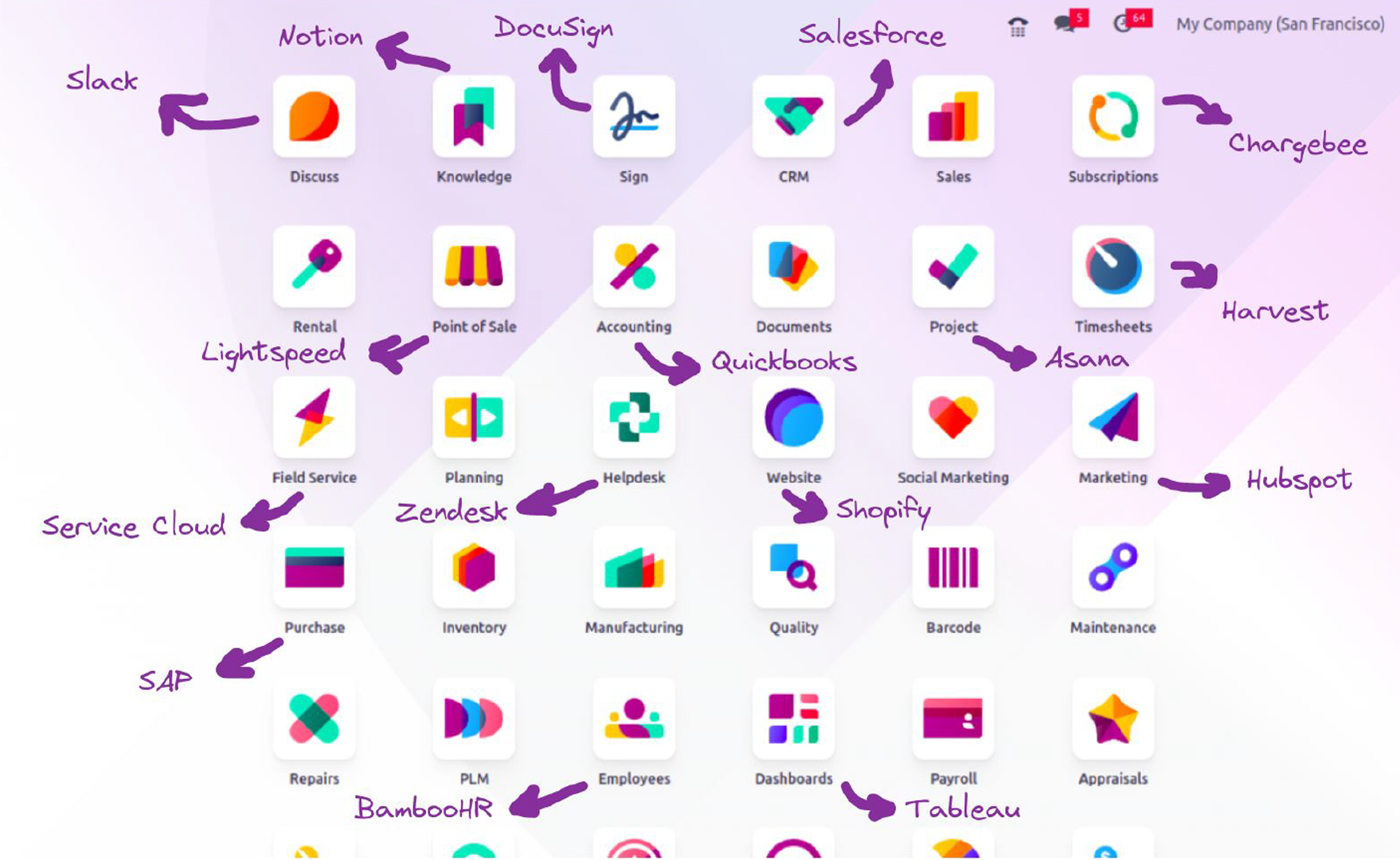 Discover the Odoo Business Suite
The most flexible Enterprise Resource Planning system on the global markt!
Odoo FAQ: Answers to frequently asked questions
For whom is Odoo suitable?
Start-ups
Start-ups benefit from Odoo's flexibility and adaptability, allowing for gradual implementation and scaling as they grow. Additionally, the ERP software is cost-effective and comes with essential apps needed to manage operations digitally.

SMEs
Odoo is well-suited for small and medium-sized businesses since many fundamental ERP modules are included in the standard Business Suite. These modules can cover various business areas and individual requirements.

Large enterprises
Odoo can be configured to meet the specific needs of large companies and seamlessly integrated with other systems, applications, and tools. Moreover, Odoo supports multiple languages, currencies, and offers a variety of country-specific localizations.

NPOs und NGOs
Non-profit and non-governmental organizations can optimize and automate administrative tasks such as workflow management, donations, member data, and simplify case management, fundraising, and other activities with Odoo's software solution.

Odoo Community or Odoo Enterprise?
Odoo SA offers two different versions: Odoo Community and Odoo Enterprise. The transition from Odoo Community to the Enterprise version is possible at any time. braintec provides services and solutions for Odoo Enterprise. Enterprise.
Odoo Community
The free open-source version comes with basic features and modules such as CRM, sales, purchase, inventory, invoicing, website and HR. The standard apps have fewer features and limited customization options. Technical support is mostly provided through the Odoo community or forums. The Odoo Community version is primarily used by individuals and small businesses, and it can be easily downloaded, installed, and self-hosted.
Odoo Enterprise
Odoo Enterprise ist als Standard mit Odoo Online Hosting und als Custom mit Hosting auf Odoo.sh / eigenem Hosting erhältlich. Im Vergleich zu Odoo Community bietet Odoo Enterprise umfassende Funktionen, Anpassungsmöglichkeiten und einen erweiterten technischen Support. Diese Version eignet sich für kleine und mittlere Unternehmen mit spezifischen Anforderungen sowie auch für Grossunternehmen mit komplexen Ansprüchen an die Digitalisierung von Geschäftsprozessen sowie das Datenmanagement. Mit dem Custom-Tarif können mehrere Betriebe verwaltet und Drittanbieter-Apps integriert werden. Weiter lassen sich individuelle Anpassungen mit der Odoo Studio App ohne Programmierkenntnisse leicht erledigen.


Comparison Odoo Community vs Odoo Enterprise

Since when has the all-in-one ERP management software Odoo been on the market?
Odoo was founded in 2005 under the name "TinyERP" by Fabien Pinckaers. Later, the software was renamed "OpenERP," and finally, in 2014, it became Odoo. Since then, the open-source ERP has continuously gained popularity and is characterized by an active user and developer community. It is used in 175 countries worldwide. braintec has been an Odoo partner since 2009.
The services and solutions from braintec for Odoo
Services
Tailor-made, efficient and intuitive.


We automate and integrate all company-relevant processes, systems and data on the Odoo ERP Enterprise Software. Further we offer training, hosting and unique support services for the digitalization of your business processes.

Consulting Customizing Implementation Migration
Solutions
Country-specific and innovative.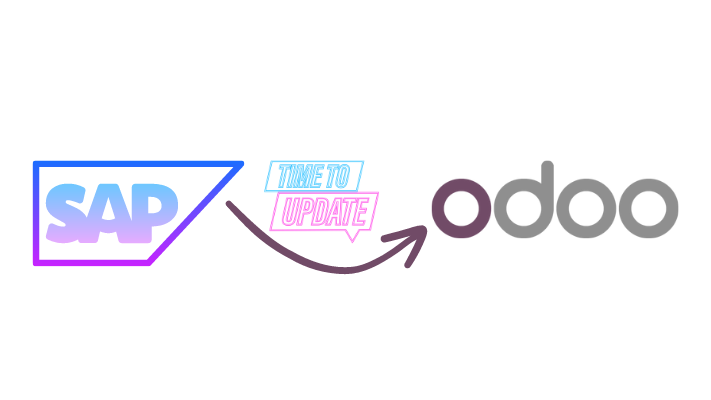 Why you should switch from SAP to Odoo ERP now
SAP R/3 (SAP Business Suite 7) is being replaced by SAP S/4HANA, and support and maintenance for SAP R/3 will end by 2027. This is the perfect time to digitize your business processes with Odoo, the ultimate All-in-One software for companies of any size and industry.

Mehr